StormGain Miner Passive Income to Earn Bitcoin by mining straight from your mobile
In this guide, we unearth the ins and outs of this interesting new service by Stormgain Miner – the free bitcoin miner.
Let's dive right in!
What is StormGain?
---
Founded in 2019, StormGain is a UK-based crypto exchange and leverage broker firm. The platform has over 120,000 users, and it operates in more than 100 countries globally. The company is still not regulated but has gained a big user base worldwide. The platform is very simple and user-friendly with various innovative tools and many altcoins to trade with.
Besides trading, StormGain has expanded its service offering to a cloud mining tool that allows its users to mine bitcoin without investing in expensive hardware.
How Does StormGain Miner Work?
---
StormGain offers this miner app as a free tool for the users that register on their platform. You can mine your crypto by simply installing the app and clicking on the run the miner button. So there is no worrying about your devices' electricity bills, cooling, maintenance, and battery life. Unlike other miners, StormGain's cloud mining is free, making it ideal for beginners.
Hidden gems for huge ROI in 2021?
If you would have bet on the right coins last year you could easily have 100xed your capital…
You could even have made as much as 1000x (hint: DOGE) which means you could have turned $100 into as much as 100k.
Experts believe this will happen again in 2021, the only question is which coin do you bet on?
My friends at WhaleTank are one of the leading crypto signals providers with a proven track record of successful gem picks. You get not only buy and sell signals but also insider info on top ICOs and new coin launches.
You also don't have to enter into long-term commitments to mine cryptocurrency with StormGain. You just run the app when on demand, whenever you choose to do it.
So what is the catch? Why would Stormgain let you earn bitcoins by using their resources without paying for anything?
Well, it is an incentive for users to register and trade on their platform as that is the main
To mine on the StormGain platform, you need to have a high trading volume. The more crypto you trade on the exchange, the higher your chances of earning free Bitcoin through the cloud miner. If you use the StormGain application often, you also stand a high probability of mining free crypto.
So, it is kind of an acquisition avenue for StormGain as their power-users can get some of the paid fees back through this miner app.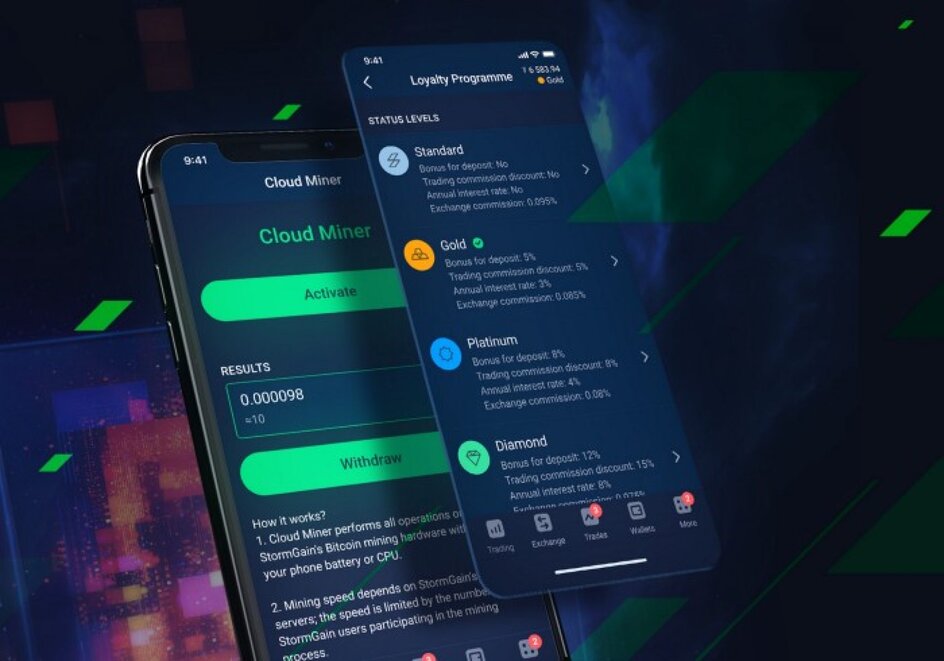 Besides mining, you can also trade different cryptocurrencies on the StormGain platform. You can also perform instant crypto swaps using instant exchange. With this feature, you get to change one altcoin to another seamlessly without going through swap platforms such as ChangeNow or Changelly.
Noteworthy, StormGain also has a multi-currency wallet that can store up to 6 coins. The wallet is safe and includes two-factor authentication and security encryption. You can quickly download the wallet on the official website and complete a registration form. Please note that this is a custodial, online wallet that is not recommended for long-term holding.
The platform offers an incentive to all users who hold their currency in the wallet. You can earn up to 12 percent interest on your funds by simply having them in the wallet without even trading. You can then withdraw the accumulated interest after 30 days in the form of USDT. Try StormGain Miner App Here
StormGain also has a demo account that allows users to experiment without making any deposits. The platform will enable beginners to test everything without incurring any costs.
It's also important to note that you can top up your account using credit cards like Visa and MasterCard. A flat fee of 5 percent applies for all purchases you make using a credit card.
How Do I Start Mining with StormGain Miner?
---
To get started on StormGain miner, you need to register on the official website. Registration requires your email and a password only. You will then have to verify your account using a link sent to your email.
With your account set up, navigate to the Bitcoin miner page. You'll see a huge green button marked as "Activate." Click on the button and wait for 4 hours so that you can see your mining reward. Repeat these steps as you increase your mining speed and trading on the exchange platform.
Conclusion
---
StormGain miner is a cloud-hosted mining tool that doesn't cost users any money. You also spend less on electricity, maintenance, and replacement of batteries. You can mine Bitcoin when using the mobile application, and you also stand a high chance to mine if you have a high trading volume on the exchange. This guide details everything you need to know about StormGain.